Cubic terrace canopy is a roofing with a very regular cubic structure. This product is a great option for the design offices, architects as well as for individual people who appreciate originality. This type of canopy in a free-standing option which looks inimitable, making it possible to cover an area bigger than 72m² with its one module. Cubic terrace canopy was designed so as to resemble a cube. Right angles used in the design enable us to incorporate additional equipment. System of the sliding glass-panels or shading blinds closes the architectural form, protecting from the bad weather conditions and highlighting its geometrical design. Cubic pergola is resistant to rain, warming up and UV. Rain water is drained off through the hidden guttering system. Full automation of managing the canopy guarantees smooth, convenient and discreet control. Thanks to the possibility of having the construction painted in a colour of your choice, Cubic tarasola suits every project.
Product characteristics:
Total water resistance after the roof's unfolding. A well-developed guttering system makes the Cubic terrace pergola very useful when it rains.
Remotely controlled roof can be folded accordingly to your needs.
Thanks to the modular joining of the elements, it is possible to cover an area of any size with our terrace canopies. The minimum number of the struts allows to plan the land use freely.
It is resistant to the extremes of temperature and UV rays.
It is resistant to wind, it works even if the wind power passes 120 km/h.
The roof does not heat up. As a result, it is possible to spend time under the roof even if the temperature outside is very high.
It is possible to install the side panels which aim is to protect from wind, changing temperature or rain. Consequently, the 'outdoor season' can be prolonged.
LED spotlights enable the roof users to enjoy it at dusk as well as at night.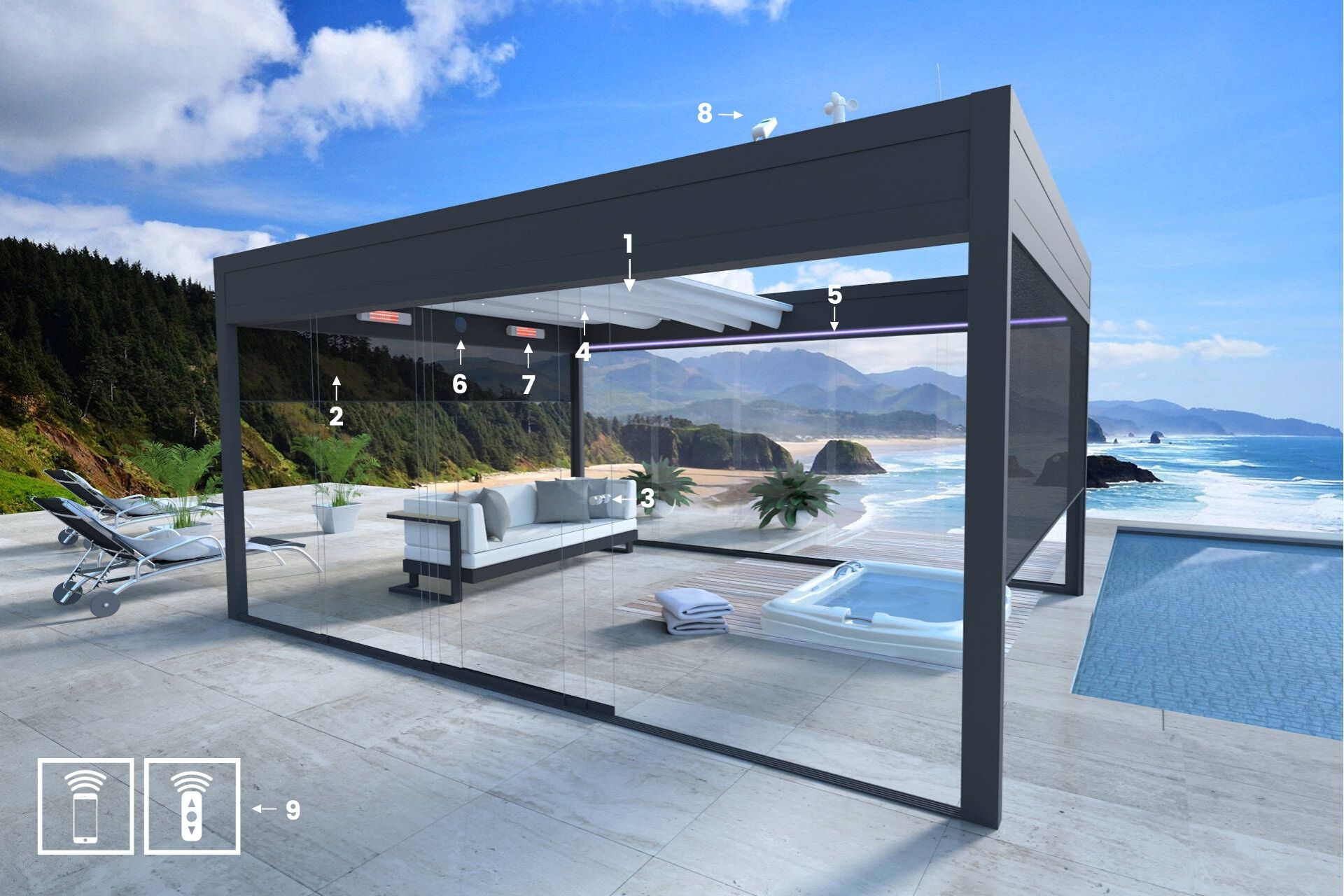 Retractable fabric
Roller blinds - ZIP screeners
Sliding glass panels
LED spotlights
LED strip RGB
Audio system
Infrared heater
Sensors: rain, wind, snow
Automatic control